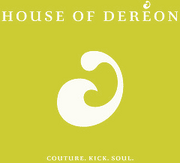 House of Deréon is a fashion label founded by Beyoncé Knowles and her mother/stylist, Tina Knowles. The label was introduced to the public in 2004, featuring ready-to-wear clothing for women. Many styles for the label were derived from the past three generations of women in the Knowles family, with the name Deréon being a tribute to Beyoncé's maternal grandmother, Agnèz Deréon. The tagline of the brand is "Couture.Kick.Soul," as Beyoncé represents the "kick", her mother represents the "coutoure," and her grandmother being a symbol of "soul."
Deréon
In 2006, Beyoncé partnered with her younger sister Solange Knowles to expand the family brand and to appeal to younger consumers. The tagline for the Deréon brand is, "Where the sidewalk and the catwalk meet." Deréon is solely a junior collection featuring edgy fashions including various types of trendy shoes, embroidered clothing, jeans and a large array of casualwear. While prices of clothing from the House of Deréon brand are a bit steep, Deréon offers more affordable and realistic prices.
The fashion line was first introduced on The Oprah Winfrey Show, and was also featured on The Tyra Banks Show. The clothing mixes hip-hop influences, such as its use of denim, with ultrafeminine flourishes like embroidery and ruffles. In an interview with Ebony magazine Beyoncé said, "I love the clothes from the '70s, my mother's clothes. I love clothes from the '40s, my grandmother's style, so elegant. We wanted to take elements from my grandmother's legacy—the beaded lace, lush colors, fine fabrics—and mix them with clothes from my mother's generation and my generation."[Source]
Both, Beyoncé and her sister Solange have featured in marketing campaigns for the brands. Beyoncé mentions the brands in songs Get Me Bodied  from the album B'Day and Single Ladies (Put a Ring on It) from I Am...Sasha Fierce.
In January of 2011, reports surfaced stating that international company LF USA had purchased the parent company of both brands, Beyond Productions.[Source] Deréon is destined to become far more than a domestic success upon LF USA's acquisition.