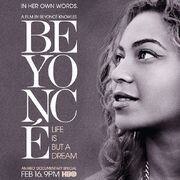 'Life is but a Dream' Overview
Edit
On Saturday, February 16 at 9:00pm EST on HBO, Beyoncé will premiere her most revealing documentary ever, titled, Life is but a Dream. The special, produced, funded, edited and narrated by herself, gives fans a very detailed look inside of her life.
In the film, fans get to see rehearsal and concert footage, her traveling, confessionals/video diaries, her pregnant stomach, the ultra-sound of her and Jay-Z's daughter Blue Ivy, and the action that takes place behind the scenes of her business, Parkwood Entertainment.
Quotes from the Film
Edit
On surrogate/fake pregnancy rumors:
"There's a stupid rumor. The most ridiculous rumor I think I've ever had about me. It's crazy. To think I would be that vain – I respect mothers and women so much and to be able to experience bringing a child into this world, if you're lucky and fortunate enough to experience that, I would never, ever take that for granted. It's the most powerful thing you can do. Especially after losing a child, the pain and trauma from that just makes it mean so much more to get an opportunity to bring life into the world. It seems like people should have boundaries." [Source]
On artists who put quantity over quality:
"People don't make albums anymore .. They just try to sell a bunch of quick singles and they burn out, and they put out a new one, and they burn out, and they put out a new one..."
Viewership
Edit
Approximately 1.8 million people tuned in to watch Beyoncé's Life is but a Dream premiere on HBO on Saturday, February 16, 2013 - the most-watched documentary in almost ten years. [Source]
Community content is available under
CC-BY-SA
unless otherwise noted.