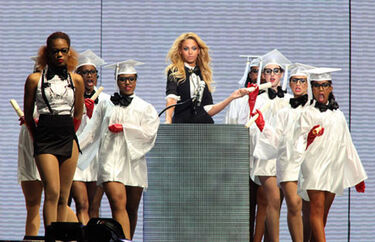 Welcome to The Beyoncé Wiki (Beypedia)! We welcome any and all users who wish to edit but we have just a few rules to govern what takes place to ensure validity, organization and safety. Thank you for viting and please enjoy.
The Basics
Edit
No matter what you edit on Beypedia, we stress the importance of grammar! The fastest way to have your work removed is to use poor grammar.
Be polite.
Credit sources for photos, news articles, etc.
No gossip, especially about Beyoncé, is permitted.
Have fun!
News Articles
Edit
When posting a news article/user blog to Beypedia, remember to credit where the original posting came from if you came across it from somewhere else. Posts are to be original and users who are found copying content from a source, also known as plagiarizing, will be consequently banned.
Again, please remember to proofread - no slang or spelling errors. Some very important people read Beypedia and we don't want to leave a bad impression.
Lastly, do not post rumors or articles that could be used against us or Beyoncé.
Be careful where you get your photos and always, always source. Keep it classy with photo selection and know that recent images are always best. When uploading photos, think: Would Beyoncé want this posted?
Community
Edit
In the community, including forums, user blogs, talk pages, blog comments, etc. we ask you to be polite and courteous of others. It's okay to be honest and express yourself, but slurs, cursing, hate or violence will not be tolerated.
Administrative Rights
Edit
At any time, administrators reserve the right to edit content and/or remove content as we feel necessary. If rules are followed, then this likely will not happen.
If you feel as though your user rights are being violated, please contact us as soon as possible.
Community content is available under
CC-BY-SA
unless otherwise noted.